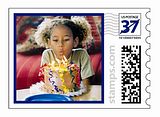 Face it, no matter how many times your mother in law receives photos of her grand children, she is going to request more to show her friends and house guests. And I know you've even resorted to sending her a few of the usual memorabilia suspects – tiles, mugs and tote bags - all displaying photos of your children. Well, here's something you haven't done yet – something your mother, mother in law and grandmother will think is the bees knees – PhotoStamps.
Read more...
I've found a baby announcement company to create the baby announcements when "baby boy still without a name" arrives - it's called Tickle Bellies. Colleen Bouchard, the owner/artist, started Tickle Bellies when she was creating a baby announcement for her second daughter, Ellie.
Colleen saw a need for affordable and whimsical birth announcements and decided to offer her designs to moms who wanted adorable announcements. If you think her designs look familiar, it's because she also designed the logos for Little Maestros and Mommy and Me.
Visit the Tickle Bellies website to see all of her adorable baby announcements.
The use of email has changed post baby thank you note etiquette dramatically. It may be easier to take a minute and send a thank you email to your sister for the sweater she knitted for little Marcus but its not very thoughtful. It is still much more appreciated to open a mail box full of bills, catalogs and credit card offers to find something that will always make the recipient smile. A handwritten thank you note on an Abby Jean note card.
While you are supposed to send thank you notes for baby gifts within three months of receiving them, it doesn't mean that you shouldn't send a thank you if it's been nine months post pregnancy. The Abby Jean Blush and Chocolate collection is sweet and sophisticated handmade stationery perfect for your 'in between feeding' thank you note scribbles while the Audrey Hepburn inspired Until collection is a great way to tell some of your long lost single friends that your first night back to sip margaritas with them will be in May.
Or you can just visit the Abby Jean website to purchase thank you stationery that doesn't require you to write missives about colic, cradle cap or carrot stained three dot shirts.