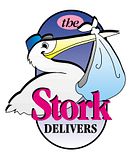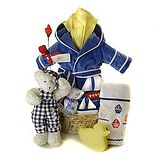 When the stork delivers your new arrival, it will only be a matter of time before the FedEx guy knows your family has a new addition. Baby gift baskets, boxes and bags of gifts for the newborn will accompany ringing doorbells. Most of the gifts will be in tiny newborn sizes. But we all know how fast newborn babies grow.
Smart and considerate family and friends will love choosing from the The Stork Delivers themed baby gift baskets of top quality products with sizing that the baby doesn't grow out of so quickly. Each baby gift basket even includes a little something to pamper the new mom!
Read more...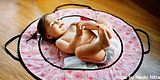 The diaper changing pads that come with the majority of diaper bags are usually the size of a paper towel and provide minimal coverage even for a cooperative baby. As if that isn't bad enough, most babies like to squirm off the changing pad making diaper changes outdoors quite the experience. Thankfully, San Francisco-based mom inventor Grace Welch is making changes easier... with patemm pads - beautiful, round changing pads handmade from oilcloth. Welch is the founder of patemm & company. (Patemm is a combination of her childrens' names - Patrick and Emma.)
Read more...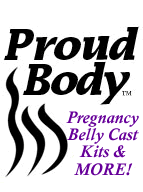 I got an unexpected expectant mom gift the other day. So unexpected that I thought it was a box containing a contest prize and I let the box sit unopened for days.
It was a do it yourself belly cast kit by Proud Body. With the help of my husband, I now have a belly cast to show our little boy how my body changed with him inside me. I haven't decorated it yet but if you go to the Proud Body website you can view some really creative designs from other moms - and a few hysterical ones, too.
The Proud Body belly cast is a fun gift to give any expectant mom and the kit is so complete that they even include a plastic drop cloth. Most importantly, it doesn't come with flashbacks of messy papier mache lady bug projects from Kindergarten arts and crafts.